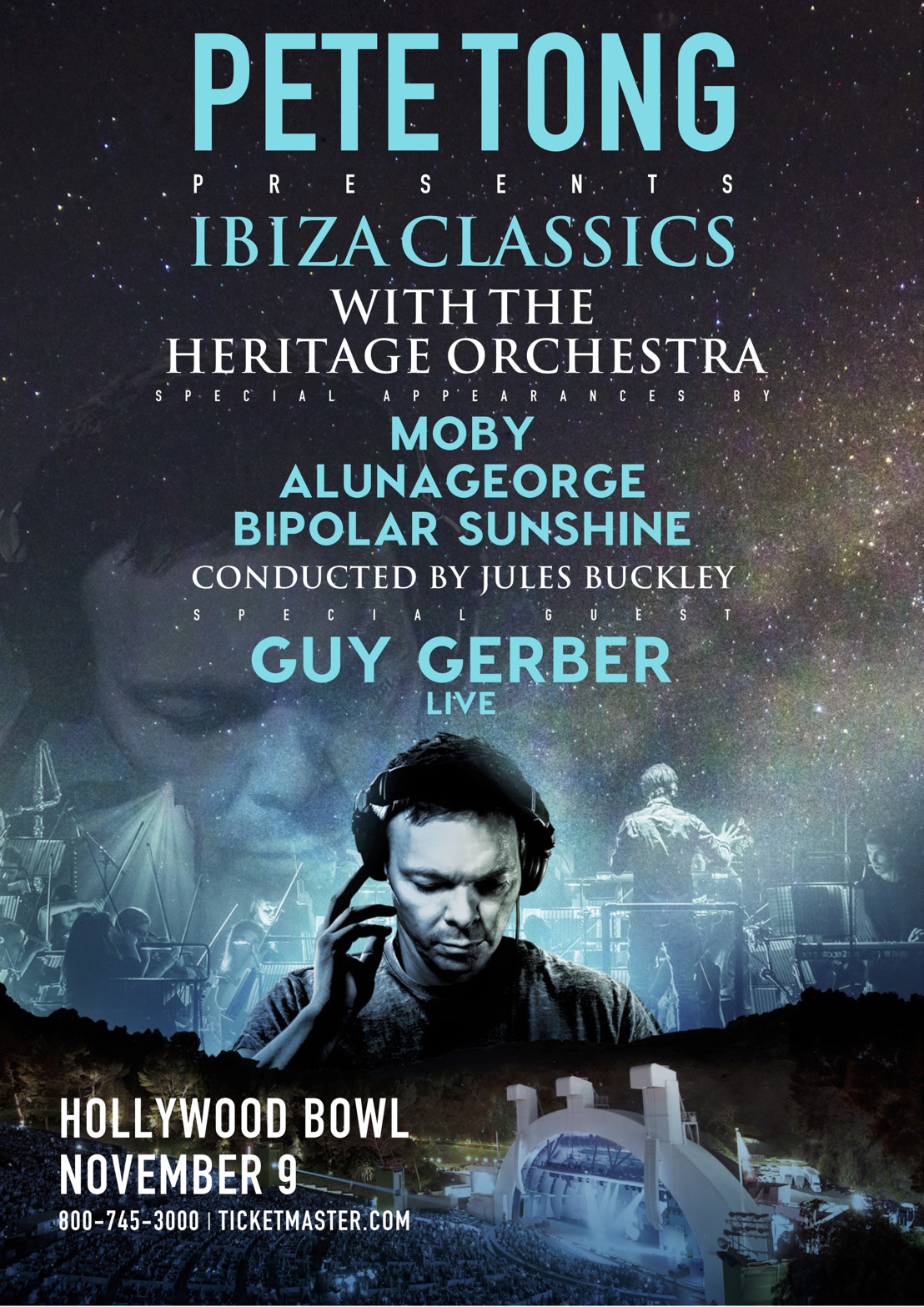 Moby, AlunaGeorge and Bipolar Sunshine join Pete Tong, Jules Buckley + the Heritage Orchestra at the Hollywood Bowl
With introduction from Beats 1's Zane Lowe
Wednesday, October 25, 2017 — Today, Pete Tong announces world-renowned electronic-music figurehead Moby as guest act for his Ibiza Classics showcase at the Hollywood Bowl. Joining them are guest vocalists Aluna Francis, of the esteemed super-duo AlunaGeorge, and Manchester's own Bipolar Sunshine alongside conductor Jules Buckley and the sixty-piece Heritage Orchestra as well as Guy Gerber, playing his first live show in over 4 years. All this with an introduction from fellow radio DJ and Beats 1 host extraordinaire Zane Lowe at one of the most storied venues in the US.
The majestic Hollywood Bowl is a fitting venue for a historic night of electronic music. Pete Tong is world-renowned for advancing the dance music genre and his partnership with Jules Buckley and the Heritage Orchestra has produced one of the world's most singular live electronic music shows. Reinterpreting the classic dance tracks that have defined the White Isle and dance floors around the world, Ibiza Classics will see Tong and the 65-piece orchestra tackle the likes of Booka Shade and M.A.N.D.Y.'s Body Language,  Fatboy Slim's Right Here, Right Now, Eric Prydz' Pjanoo and much more creating a musical spectacle like no other, in a venue like no other.
Moby will make his Hollywood Bowl Debut, and stands as one of the true electronic music legends with classics like his tracks 'Go' and 'Porcelain'. His album 'Play' was known for its warmth and texture and Moby's emotive use of strings. His productions have shaped electronic music for over twenty years. Moby, a long-term LA resident, was the perfect guest to help Tong shape a monumental evening for electronic music.
In addition to a full orchestra, Tong will be joined by some of by some of dance music's most exciting contemporary vocalists. Hailing from London, Alunageorge rocketed into the spotlight when DJ Snake remixed their pop hit 'You Know You Like It', amassing hundreds of millions of plays and downloads. Bipolar Sunshine, known for being the lead vocalist on another DJ Snake hit - Middle - will be bringing his unique vocal talent to the bowl as well.
Tong's Ibiza classics' project is led by conductor Jules Buckley and the sixty-piece Heritage Orchestra. Buckley has long championed pushing the boundaries of Classical music, and his project with Tong has paired the majesty of an orchestra with the euphoria of electronic music
Ibiza Classics scored Tong his first number one album earlier this year, sold out multiple shows at London's O2  Arena, and this summer debuted in Ibiza. The Bowl show will be their unforgettable US debut.
Pete Tong Ibiza Classics is now available for preorder, with the track "Sing It Back" immediately available: https://ume.lnk.to/PeteTongIbizaClassics