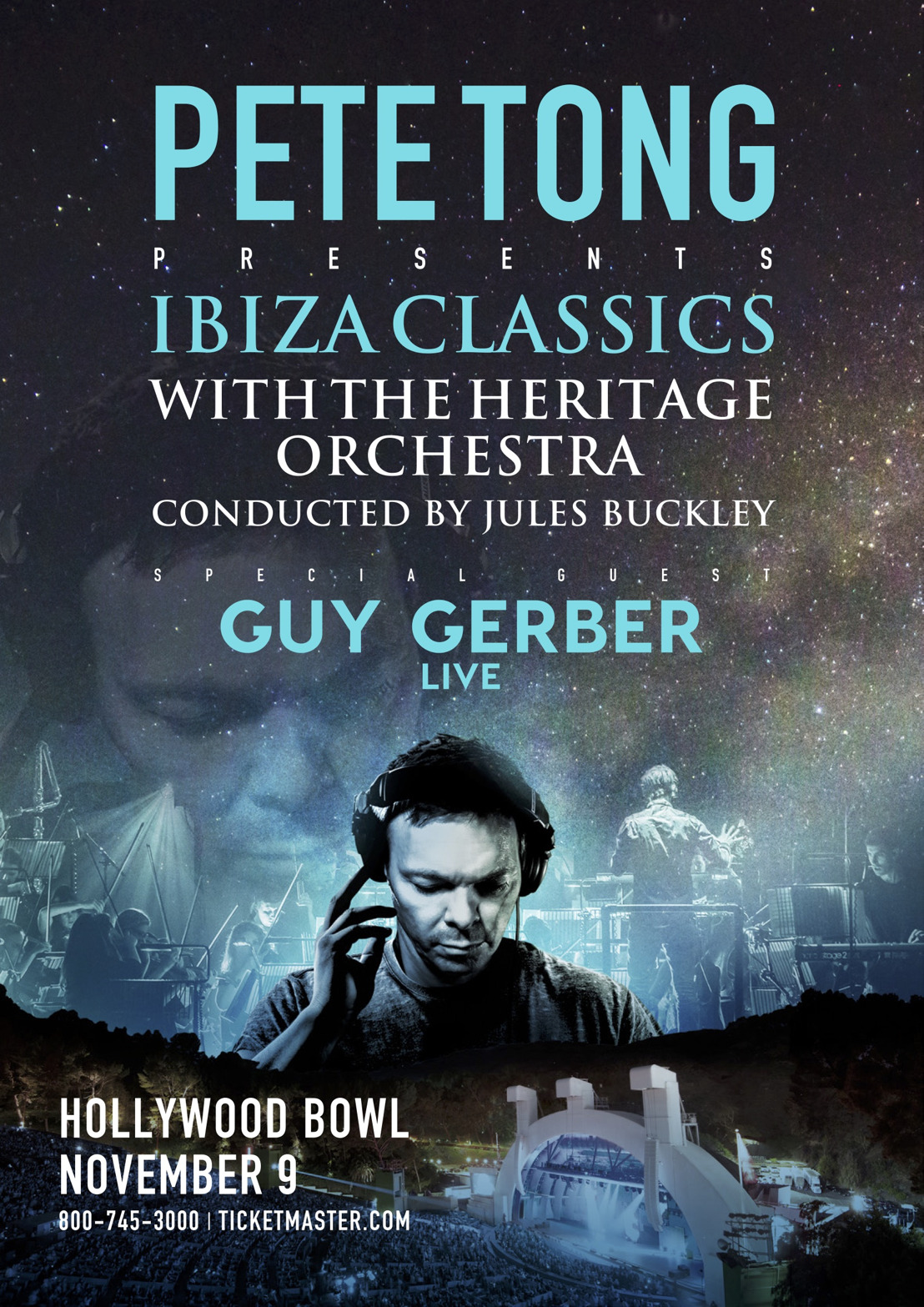 PETE TONG ANNOUNCES GUY GERBER AS SUPPORT FOR IBIZA CLASSICS AT THE HOLLYWOOD BOWL
FIRST LIVE PERFORMANCE FROM GUY GERBER IN OVER FOUR YEARS
Monday, September 25, 2017 — Guy will join Pete, Jules Buckley and the Heritage Orchestra for an Evening of Dance Music Classics Reimagined
Today, Pete Tong announces RUMORS label-head Guy Gerber as support for the Ibiza Classics show alongside the Heritage Orchestra and Jules Buckley at the Hollywood Bowl on November 9th. For the first time in over four years, Guy Gerber, a name long synonymous with the island of Ibiza, will give a live performance of his signature emotive blend of house and techno.
Guy exploded onto the world stage as a live act, landing in Resident Advisor's Top 10 Live acts in the world, before announcing he would focus on DJing several years ago. Guy's Bowl performance will be a must-see for musical die-hards and fans of the Israeli producer's deep catalog.
Gerber's live return adds another layer to what is already set to be one of electronic music's biggest nights. Tong and the Heritage Orchestra, is taking over one of the world's most storied venues for a performance like no other. It's a stage and a spectacle few could have imagined, let alone Tong, who was synonymous with the birth of the modern electronic music scene.
Tong's Ibiza classics' project is led by conductor Jules Buckley and the sixty-piece Heritage Orchestra. Buckley has long championed pushing the boundaries of Classical music, and his project with Tong has paired the majesty of an orchestra with the euphoria of electronic music
Ibiza Classics scored Tong his first number one album earlier this year, sold out multiple shows at London's O2 Arena, and this summer debuted in Ibiza. The Bowl show will be their unforgettable US debut.
Guy Gerber is consistently rated one of the best touring acts in dance music, an underground tastemaker who's collaborated with P Diddy, he is one of the scene's most colorful characters and talented artists. As the head of RUMORS, a label and clandestine touring party, Guy bucked Ibiza's trend towards big, boisterous and excessive shows, instead favoring a more intimate and personal experience along the island's remote, sandy beaches, recalling the original spirit of Ibiza. RUMORS is now on its fifth season on the island and has popped up in Art Basel, New York Fashion Week, Miami Music, LA's Chinatown and more.